Higher cost of living causing angst, surveys show
Victoria Wells Jan 14, 2022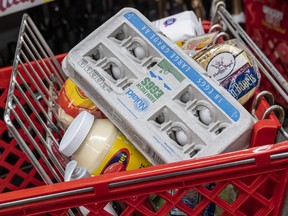 Canadians expect higher grocery prices to be their biggest financial worry this year. PHOTO BY DAVID PAUL MORRIS/BLOOMBERG
Inflation is causing sleepless nights for everyone from average Canadians to global executives, if two separate surveys are any indication.
A higher cost of living tops Canadians' financial worries this year as inflation fuels rising grocery bills and gas prices, according to a poll from digital life insurance platform PolicyMe.
Canadians are bracing for higher food prices, the survey found, and 59 per cent said they expect it to be their biggest financial worry this year.
Rising gas prices are also cause for concern; forty per cent said higher fuel and transportation costs top their list of financial stressors.
Meanwhile, CEOs of companies around the world said they're worried about inflation, too, according to a Conference Board survey. C-suite executives ranked inflation as their second biggest concern this year, up from 22nd place last year.
"Less than 40 per cent of CEOs believe their organization is well prepared for an inflation-related crisis," said Dana Petersen, chief economist at the Conference Board in a news release.
A majority of executives (55 per cent) think prices will remain elevated into 2023 and beyond as supply chain disruptions and labour shortages continue to bite. To cope, they're planning cost cutting measures. But they're also planning to pass price increases onto consumers, the survey indicated.
In Canada, the inflation rate hit 4.7 per cent in November, an 18-year high. Things are worse in the U.S: the U.S. Consumer Price Index jumped 7 per cent in December, the largest rise since June 1982.
Article content
Canadians are already seeing evidence of inflation on their grocery bills. Statistics Canada reported that grocery prices rose 4.7 per cent in November compared to the same time last year, the highest increase since 2015.
Gas prices have also jumped. Compared to November 2020, gas prices were 44 per cent higher than in the same month of 2021, Statistics Canada reported, a reflection of the volatility in energy markets.
But though Canadians are worried, there are indications that many have the means to weather the storm.
PolicyMe's survey showed two out of three Canadians feel confident about their finances heading into 2022. And they are making saving a priority. Fifty-four per cent are planning to put more money into an emergency fund and 45 per cent said they will be making regular contributions to their savings. Paying down debt and saving for retirement also sit at the top of their financial plans.
"While concerns around inflation are causing stress for many families, Canadians have a positive outlook for 2022," said Andrew Ostro, chief executive of PolicyMe, in a release. "They feel in control of their finances, they are saving a high percentage of their income and they have a strong sense of financial resilience."